The History of Pecans
A TIMELINE AND FUN FACTS
The history of pecans can be traced back to the 16th century. The only major tree nut that grows naturally in North America, the pecan is considered one of the most valuable North American nut species. The name "pecan" is a Native American word of Algonquin origin that was used to describe "all nuts requiring a stone to crack."
Originating in central and eastern North America and the river valleys of Mexico, pecans were widely used by pre-colonial residents. Pecans were favored because they were accessible to waterways, easier to shell than other North American nut species and of course, for their great taste.
Because wild pecans were readily available, many Native American tribes in the U.S. and Mexico used the wild pecan as a major food source during autumn. It is speculated that pecans were used to produce a fermented intoxicating drink called "Powcohicora" (where the word "hickory" comes from). It also is said that Native Americans first cultivated the pecan tree.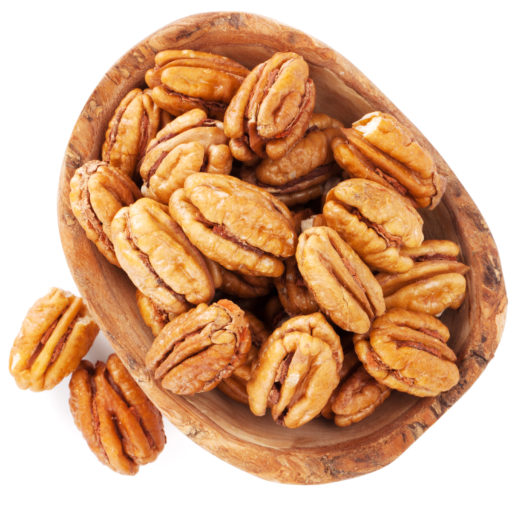 Presidents Washington and Jefferson Loved Pecans, Too!
One of the first known cultivated pecan tree plantings, by Spanish colonists and Franciscans in northern Mexico, appears to have taken place in the late 1600's or early 1700's. These plantings are documented to around 1711—about 60 years before the first recorded planting by U.S. colonists.
The first U.S. pecan planting took place in Long Island, NY in 1772. By the late 1700's, pecans from the northern range reached the English portion of the Atlantic Seaboard and were planted in the gardens of easterners such as George Washington (1775) and Thomas Jefferson (1779). Settlers were also planting pecans in community gardens along the Gulf Coast at this time.
In the late 1770's, the economic potential of pecans was realized by French and Spanish colonists settling along the Gulf of Mexico. By 1802, the French were exporting pecans to the West Indies—although it is speculated that pecans were exported to the West Indies and Spain earlier by Spanish colonists in northern Mexico. By 1805, advertisements in London said that the pecan was "…a tree meriting attention as a cultivated crop."
During the 1700's and the early 1800's, the pecan became an item of commerce for the American colonists and the pecan industry was born. (In San Antonio, the wild pecan harvest was more valuable than popular row crops like cotton!)
Pecan groves (trees established by natural forces) and orchards (trees planted by man) consist of diverse nuts with various sizes, shapes, shell characteristics, flavor, fruiting ages and ripening dates.
In 1822, Abner Landrum of South Carolina discovered a pecan budding technique, which provided a way to graft plants derived from superior wild selections (or, in other words, to unite with a growing plant by placing in close contact). However, this invention was lost or overlooked until 1876 when an African-American slave gardener from Louisiana (named Antoine) successfully propagated pecans by grafting a superior wild pecan to seedling pecan stocks. Antoine's clone was named "Centennial" because it won the Best Pecan Exhibited award at the Philadelphia Centennial Exposition in 1876. His 1876 planting, which eventually became 126 Centennial trees, was the first official planting of improved pecans.
The successful use of grafting techniques led to grafted orchards of superior genotypes and proved to be a milestone for the pecan industry. The adoption of these techniques was slow and had little commercial impact—until the 1880's when Louisiana and Texas nurserymen learned of pecan grafting and began propagation on a commercial level. This was the start of a booming pecan growing and shelling industry!
Source: Pecan Technology, Edited by Charles R. Santerre
Pecans could improve your love life? If the body does not get enough zinc, it may have difficulty producing testosterone – a key hormone in initiating sexual desire in both men and women. Pecans provide nearly 10 percent of the recommended Daily Value for zinc. So, pass on the oysters and reach for a handful of pecans!
Can you imagine a pecan skyscraper? It would take 11,624 pecans, stacked end to end, to reach the top of the Empire State Building in New York City.
Texas adopted the pecan tree as its state tree in 1919. In fact, Texas Governor James Hogg liked pecan trees so much that he asked if a pecan tree could be planted at his gravesite when he died.
Pecans in space: it would take a line of over 10 billion pecans to reach the moon!
Albany, Georgia, which boasts more than 600,000 pecan trees, is the pecan capital of the U.S. Albany hosts the annual National Pecan Festival, which includes a race, parade, pecan-cooking contest, the crowning of the National Pecan Queen and many other activities.
Would you go nuts for a refreshing dip in the pool? You'd need a lot of pecans – 144 million to be exact – to fill an Olympic-sized swimming pool.
It takes a magnificent tree to produce a great-tasting nut. Pecan trees usually range in height from 70 to 100 feet, but some trees grow as tall as 150 feet or higher. Native pecan trees – those over 150 years old – have trunks more than three feet in diameter.
That's one heavy nut: it would take 5,640 pecan halves to equal the weight of a standard watermelon.
Pecans come in a variety of sizes – mammoth, extra large, large, medium, small and extra small. They also come in several forms including whole pecans, pecan halves, pieces, granules and meal.
There are over 1,000 varieties of pecans. Many are named for Native American Indian tribes, including Cheyenne, Mohawk, Sioux, Choctaw and Shawnee.
Some of the larger pecan shellers process 150,000 pounds of pecans each day. That's enough to make 300,000 pecan pies!
The U.S. produces about 80 percent of the world's pecan crop.
Before a shelled pecan is ready to be sold, it must first be cleaned, sized, sterilized, cracked and finally, shelled.